During our recent Bohol vacation, we had a fun-filled, whole day tour of the province. One of the tourist spots we visit is the famous Chocolate Hills Park where you can get a magnificent view of the wondrous Chocolate Hills. Not much has changed in the place since my previous visit in 2007. The park is still maintained by the local government and there are still those souvenir shops that sell anything from tarsier-designed pouches to printed t-shirts. But what caught my fancy while on top of the viewing deck was the jump shot photo service located in the corner.
For P50, you get a 4R copy of your jump shot. Waiting time for the photos is anywhere from 10 to 15 minutes since they have installed PCs and printers at the side. The bigger the size of the photo, the higher the price. The creative jump shot can be done individually or by group. We tried it as a group and here's what we got: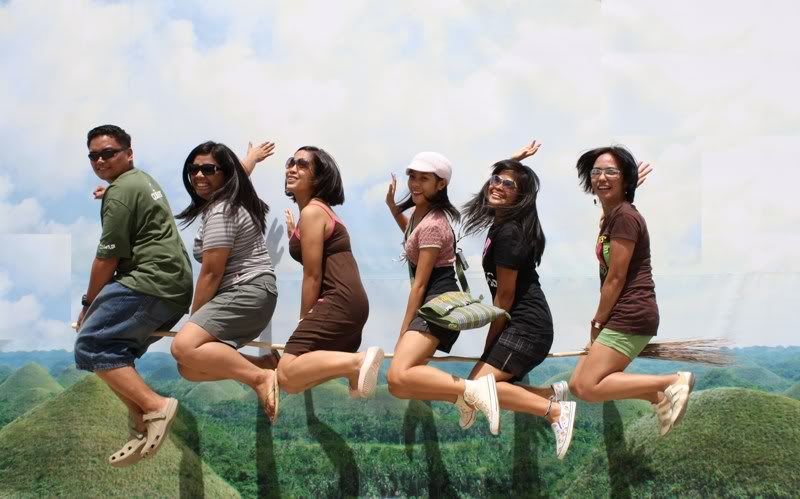 Isn't it cool? All you have to do is jump as high as you could for better effect. To make it more fun, use your imagination and do some creative poses. The staff provide brooms for  a 'witchy' pose and even help you choreograph your move. I brought my Canon 1000D with me so I requested one of the photographers to take a shot of us and he agreed.
Now, you may be wondering how they take those jump shots and it appears as though the subjects are standing by the hills. Well, the background is actually a big Chocolate Hills banner, on a tarpaulin. With little editing, the jump shot photo becomes natural-looking and flawless. What a great Pinoy idea.
For more features of the different beautiful places in the Philippines and the cool services found there, bookmark this site or subscribe to my feeds.